All about iOS 17, the operating system that was born with iPhone 15. There are still several months left for the release of iOS 17. Of the iPhone operating system destined to appear, albeit in different versions (iPadOs 17, TvOs 17) on different devices, yes already speak today. After all, if it is true that it may not appear before September (at the earliest), according to tradition it will arrive on the smartphones of many users well before with the betas. Even before it will rain a deluge of indiscretions. Since it's already… raining, around the first drops of rain, trying to select the real voices and the fantasies among them, let's build this article of anticipations.
HomePod 2, great sound quality and more smart features from the first reviews
iOS 17, you name it
Let's start with the name which is the easiest aspect, at least for now (in twenty years, who knows…) the iPhone operating system of the year 2023 will continue to be called iOS, a name it acquired in 2010 with the launch of the iPhone 4 and it will take the consequent numbering, therefore it will be called iOs 17. If anything, the code name can be discussed. According to the most accredited sources it will be called Down, a name such as it is destined not to appear and not to be of much interest to the common public.
iOS 17, the news
The first news, probably, may not please those who are waiting for yet another Apple revolution. There probably won't be any important aesthetic changes and it works. After iOS 16's rich aesthetic change that allowed for custom lock screens, iOS 17 shouldn't limit the new features.
After all, not necessarily with every renewed version of iOS came features that are truly radically different from previous releases, so different as to transform the methods of use. In recent years, the operating systems that have changed several cards on the table have been iOS 14 and iOS 16.
Ultimately it is very likely that iOS 17 could appear very similar to iOS 16, but certainly there will be improvements and news.
iMessage
One major change could be in iMessage. A rumor dating back to late 2022, coming from the leaker Mani Bu, speculated that Apple may revamp its instant messaging app with a new home screen, new AR chat features, custom rooms and new stickers. After all, the main criticisms have focused around Messanger both for the closure of the system and for the lack of functions that are common in other competing products.
Screen always on
Another possibility is that Apple decides to improve the AOD function, always on display, i.e. always on display, which is currently exclusive to the iPhone 14 Pro series. There have been complaints about how it works, so much so that some have found a trick to enable a Android-style AOD.
Alternative App Stores
Apple has long been in the midst of legal battles to strongly contest the possibility that applications on the iPhone and iPad can be installed from alternative App Stores. It all started, if you like, from the lawsuit filed by Epic against Apple. Since then, many courts have ruled in favor of the possibility of installing applications without going through the App Store.
In order to comply with the European Union's Digital Markets Act, Apple may need to make some important changes to its app installation system. In the end it could be forced to give in, allowing the birth of real alternative stores, from which applications can be installed.
Apple has already explained the many risks that users would face, first of all a lower app security: through these App Stores, not controlled by Apple, the doors could open to malware and viruses.
In addition to the security issue, the App Store is certainly a secure source of income for Apple that allows you to obtain commissions ranging from 15% to 30% on each transaction from apps and in-app purchases.
Apple is thinking about security mechanisms for alternative App Stores and a possible protection could come with app notarization, a mechanism that would allow apps to be signed and developers authenticated, along the lines of what happens on macOS (where it is already possible to run applications , not necessarily downloaded from the Mac App Store).
This 2023, therefore, could be the good year for the arrival of alternative App Stores on iOS 17. Maybe not exactly at launch, but still with a subsequent update, such as iOS 17.1. At most, they could arrive in the first quarter of 2024.
New CarPlay
During the last WWDC 2022 Apple presented the new generation CarPlay. This is the infotainment system that allows you to view a graphical interface on the vehicle display to manage navigation, messaging, as well as multimedia apps. The next CarPlay will merge even better with the car: through a better connection with the instrument cluster it will allow you to control things like the radio or the climate system, even being able to draw on the data collected from the vehicle to show the speed, fuel level, the water temperature and other such information directly on the dashboard.
Obviously, iOS 17 could lay the foundations for this new interface, but the car will then need to be able to support it. For this reason, it is easier that only in 2024 will it be possible to drive a car with the new system.
Augmented reality support
There has been talk of an augmented reality viewer for Apple for too long. One of two things: either it is a project like AirPower, which will never see the light of day, or the time has really come for its launch. But if it arrives, it is clear that iOS 17 will get changes to support this new device which will inevitably interface, most likely exclusively as Apple Watch, with iPhone.
Wishlist iOS 17
Although iOS has become an extremely mature operating system from all points of view, there are still some missing functions, which are present on the Android counterparts. Here's what might be the features that iOS 17 could steal from Android.
Split screen
Considering that the Max and Plus series offer a really huge 6.7-inch screen, why not offer the possibility to use two apps side-by-side via split screen?
App cloning
On Android it is possible to clone apps such as Telegram Whatsapp and others. In this way it is possible to have multiple accounts on a single smartphone. This is a useful function to distinguish, for example, the working environment from the personal one.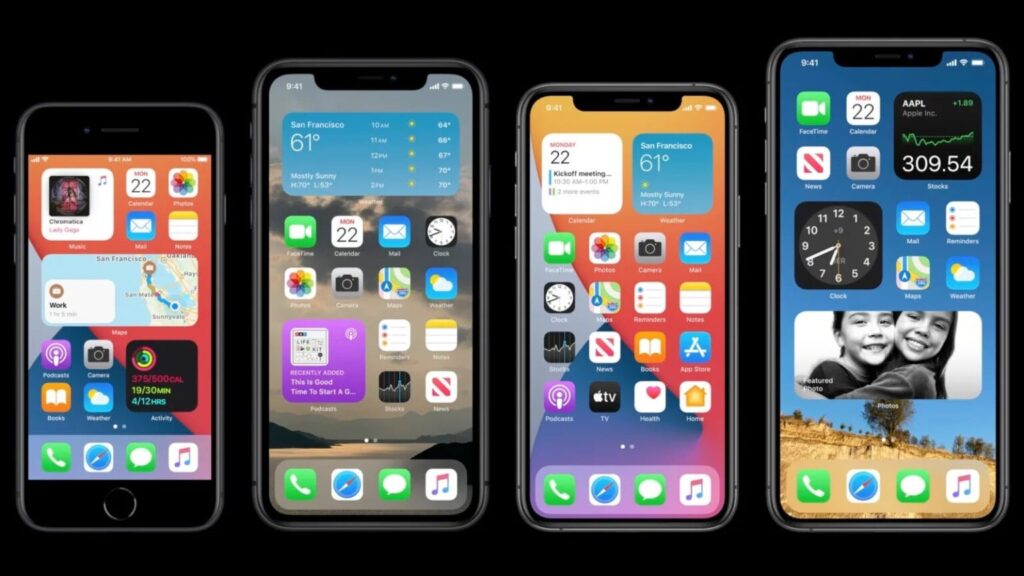 Interactive widgets
Apple has been introducing widgets on the home screen for years now, but it hasn't made them particularly interactive. This is to preserve the autonomy of the terminal and weigh as little as possible on the battery. Who knows that iOS 17 will be able to find a way to offer users more information and possibilities for interaction with widgets without consuming too much energy.
Call recording
iPhone users are clamoring for the ability to record phone conversations natively. There are many apps that allow you to do this, but it would be more convenient to be able to simply click on an icon during a call, just like with the Android dialer.
iOS 17 compatibility
It is also important to know which devices iOS 17 will be compatible with. Obviously, iOS 17 will be pre-installed on the entire iPhone 15 series arriving at the end of September this year. However, it will almost certainly be compatible with:
iPhone 14 series
iPhone SE 2022 (3rd generation)
iPhone 13 series
iPhone 12 series
iPhone SE 2020 (2nd generation)
iPhone 11 series
iPhone XR, XS and XS Max
iOS 16 has dropped compatibility with the venerable iPhone 6s, iPhone SE and, surprisingly enough (and not without some controversy), the iPhone 7 as well. The assumption is that the iPhone 8, 8 Plus and iPhone X, released in 2017 and compatible with iOS 16, they will end up in the category of no longer compatible devices.
When iOS 17 arrives
The official announcement of iOS 17 is expected, as always, during WWDC 2023 which will probably take place in June. From there the beta will be available, first private for developers, then public. The final release, however, should arrive in conjunction with the release of the iPhone 15 and iPhone 15 Pro series, expected for September 2023.