Apple Defies Market Trends with Dominant 55% Share in Q3 2023 Amidst US Smartphone Market Shifts. In the third quarter of 2023, the US smartphone market witnessed a unique dichotomy. While the overall market shrank by 5% compared to the same period in the previous year, Apple emerged as a dominant force, capturing 55% of the market share. This dominance is particularly noteworthy in light of the market's overall downward trajectory, suggesting a strong consumer preference for Apple products amidst a challenging economic environment.
Apple Bids Farewell to the Touch Bar
The decline in the broader market contrasts starkly with the 21% increase in smartphone shipments during this quarter, amounting to 31 million units. This surge was largely attributed to the popularity of iPhones, bolstered by aggressive carrier promotions targeting high-end devices. Despite the overall market downturn, these promotions played a crucial role in sustaining the market's vitality.
Interestingly, the release of the iPhone 15 significantly influenced market dynamics. The anticipation of the new model led to a temporary lull in sales, as consumers preferred to wait for the latest offering rather than purchasing existing models. This strategic waiting game highlights the significant impact of Apple's product release cycles on consumer purchasing behavior. Despite this temporary dip, Apple managed to sell an impressive 17.2 million iPhones in the quarter, securing a solid market share.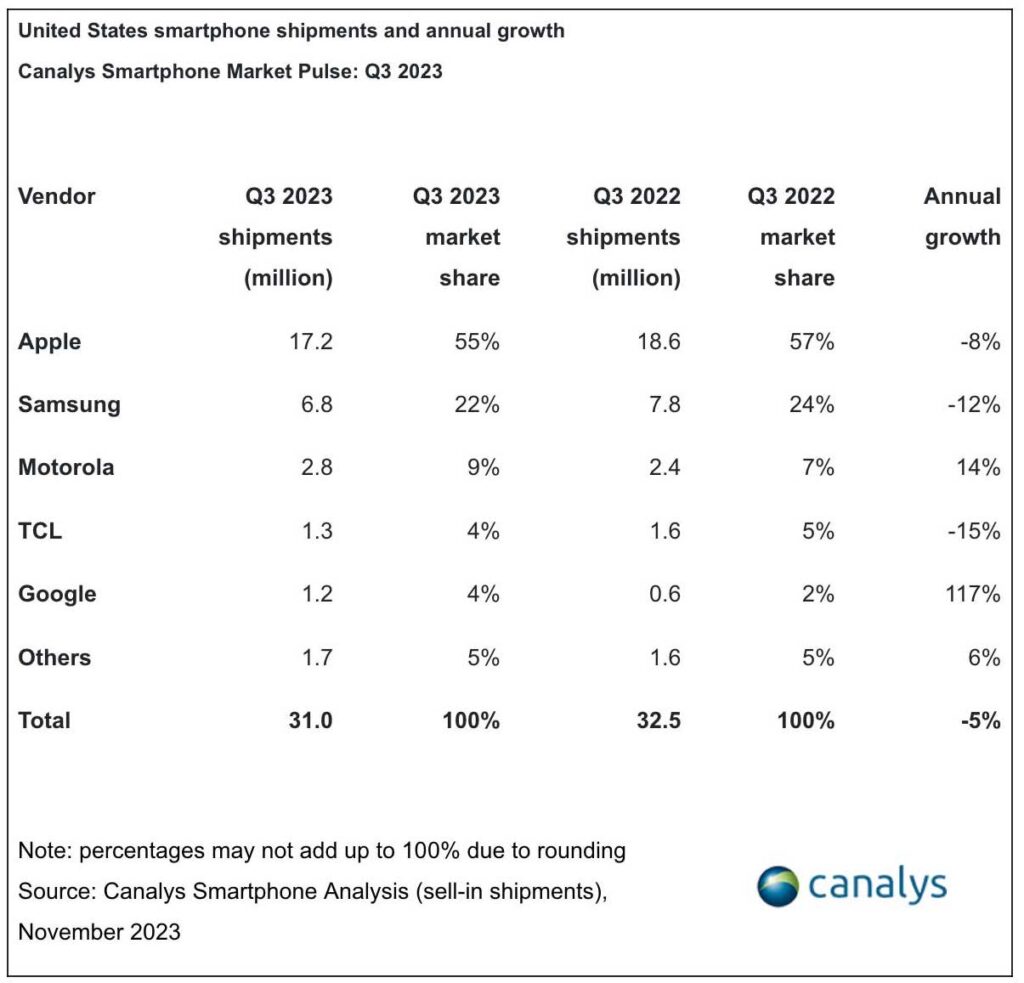 Canalys analyst Runar Bjørhovde noted the stabilization of the US smartphone market, despite the prolonged crisis impacting device promotions and subsidies. This observation points to a maturing market, where fluctuations become less erratic and more predictable. The wireless communications industry's focus on service revenue marks a strategic shift, emphasizing flexible plans and customer loyalty initiatives over traditional sales-driven models. These changes reflect the evolving landscape of the smartphone market, where service quality and customer experience are becoming as crucial as the devices themselves.
In September, the launch of the iPhone 15 further catalyzed market activity. According to Canalys analyst Le Xuan Chiew, the new model represented 34% of iPhone sales in the US for the quarter. This strong performance underscores the continued relevance of Apple's annual refresh cycle, which remains a key driver for both consumer interest and carrier promotions.
The market's response to the iPhone 15 launch also reveals interesting consumer trends. Many buyers were not upgrading from the latest model but were instead users of older generations or those interested in refurbished phones. This shift suggests a growing market segment that prioritizes cost-effectiveness and sustainability over owning the latest model.
In summary, the third quarter of 2023 in the US smartphone market was a period of contrasts. While the market overall saw a decline, Apple's stronghold grew, underpinned by strategic product launches and effective carrier collaborations. This period also highlighted emerging consumer trends and a shift in industry focus, pointing to a market that is continually evolving in response to technological advancements and changing consumer preferences.