How can a Mac mini become a MacBook? Close your eyes and imagine that you always have in your pocket all the power and versatility of the Mac mini M1 (or the M2 that could arrive this month) to work on it on the go; now reopen them, because Scott Yu-Jan has managed to put all this into practice almost perfectly.
Mac Pro Apple Silicon will support ECC RAM memories
Where does the idea come from?
Because if it is true that a case like this is enough to transport it safely and with minimum dimensions, a single application would already be enough to take advantage of the iPad Pro as a screen and get a real Mac touch.
The youtuber's idea starts from here and takes this concept far beyond and perfects it, practically transforming the Mac mini almost into a MacBook. In this sense, in fact, only a sufficiently powerful battery to power it would be missing, but if there is a power outlet available, then keep reading these lines because the solution he has invented is truly brilliant.
The secret is custody
Thanks to his ability with 3D modeling, he was able to print a custom-made case at home that holds together the Mac mini and the iPad Pro, which becomes the perfect touch screen. Everything is designed down to the smallest detail: from the cable expertly routed on the back and locked with some cable ties (so you can easily replace it in case of damage) to the adjustment of the lid tension to lock the tablet at the right angle.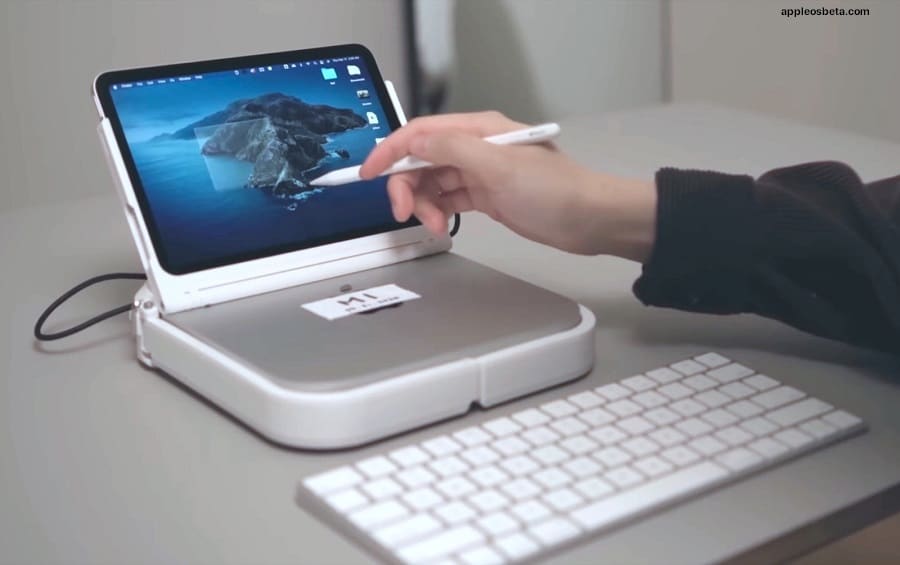 Ports and buttons are always accessible, everything is well protected but without exaggerating with the dimensions, and the Apple Pencil 2 can still be magnetically locked on the edge, in order to keep it charged and use it as a precision pointer.
Obviously, nothing prevents you from carrying around an external keyboard and trackpad or mouse, but to make this work, you don't need anything else, if not an app to enable everything.