How to run Android, Chrome OS, or Windows on a Mac. Many users see their Mac as one of the devices in the Apple ecosystem and nothing more. What they don't know, however, is that the Mac can run third-party operating systems. This is done quite easily, and below we will tell you how.
Windows 10
Let's start with Windows. Boot Camp makes it very easy to install Windows on a separate disk image on an Intel Mac. In this case, Windows is completely separate from macOS. However, some users want to enjoy two operating systems at the same time. Parallels will help you with this. It lets you run Windows in a macOS window.
Parallels is a paid program that requires a licensed version of Windows. If you want to install Windows 10 on the M1 Mac, you have to use it. Boot Camp only requires the purchase of a licensed version of Windows.
Download the Windows 10 ISO file from Microsoft.
On your Mac, in the Applications folder, launch Boot Camp Assistant.
Import the Windows 10 ISO file into the program by clicking the select button.
Choose how much memory to allocate for Windows.
Click install.
The Mac will reboot and launch Windows Installer.
After installing Windows, let Boot Camp install the necessary drivers.
After installing the operating system and drivers, you should be able to use Windows 10 on your Mac. However, you will need to purchase a key for Windows 10. After that, you can freely use Windows. To switch to macOS, simply turn off your Mac and hold down the option key while turning it on.
Windows 11
Many are wondering if it is possible to install Windows 11 on a Mac. Technically, there are ways, but officially Windows 11 does not support Mac. It looks like the new version will officially only be able to run on an Intel Mac using a virtual machine. Fortunately, Microsoft has already announced that it is partnering with Parallels to support Windows 11 on Mac.
Android
There are millions of Android apps that you might want to run on a Mac. There are ways. Bluestacks is a free emulator for macOS and Windows that allows you to run Android apps on computers and laptops. Note that Bluestacks uses an older version of Android 7, but supports most applications.
Bluestacks is best for gaming, but supports other Android apps as well. There is even support for Google Play and Google services. By logging into your Google account, you can download the company's applications to your computer. Bluestacks has its own handy launcher, but if you want, you can install any other one.
If desired, the Android app can be run even through Windows 10 on a Mac.
Chrome OS
Technically, another Google operating system can also be installed on a Mac, but with a couple of nuances. You cannot install the standard version of Chrome OS, but you can install its variation – CloudReady Neverware. It sounds strange, but now Google owns CloudReady, so it's official. The company was created to breathe life into old Macs and PCs by installing a Chromium-based operating system on them.
You can install Chrome OS on an old Mac or PC, but your computer must be CloudReady compatible. You can try to install the system on an unsupported model, but it may not work properly.
To install CloudReady, you need to download USB Maker. You need a suitable USB stick with 8GB of storage or more. CloudReady does not support Sandisk media, so they are not suitable. Once you have your CloudReady flash drive ready, you can turn off your Mac. Insert a flash drive into it and hold down the "option" key when turning it on. Then start the system from the USB stick.
You can try to install CloudReady on a virtual machine, but this method is not officially supported. You will need two things. The first is the CloudReady OVA file. Unfortunately, VirtualBox does not support CloudReady, so it is better to use VMware. The supported versions are listed on the CloudReady website.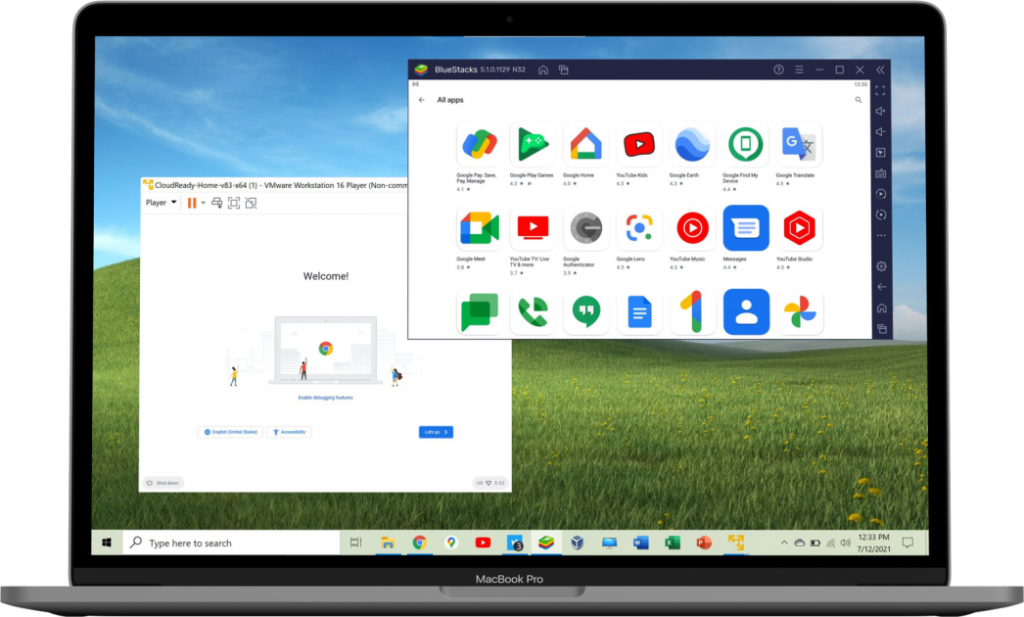 You can run Chrome OS inside Windows on Mac. Optionally, you can run Android, Chrome OS, and Windows at the same time on an Intel Mac.
As you can see, running different operating systems on a Mac is pretty easy.