iPad with OLED display: everything that is known at the moment. For the past decade, Apple has been releasing iPads with LCD and miniLED displays, and now it's preparing to release an iPad with an OLED display. Competing companies have had tablets with OLED displays for a long time. In this article, we will explain why it took Apple so long, why the company decided to release it now, and which models will have displays with perfect black reproduction.
How to Always Run Safari on Mac in Private Browsing (Incognito) Mode?
Why did Apple decide to release an OLED iPad now?
Well-known Apple analyst Ming-Chi Kuo suggested that the first iPad with an OLED display would be released in 2022, but later it became known that the company changed plans. Now the analyst writes that the company plans to release an OLED iPad in the near future, but it is not known exactly when.
DSCC analyst Ross Young recently talked about why Apple decided to release an OLED iPad after so many years. The answer is quite simple – cost reduction. Yang believes that in the next few years, the performance level of OLED panels will increase thanks to tandem stacks and phosphorescent blue emitters. In addition, their cost will decrease.
When will Apple release an OLED iPad?
According to DSCC's Ross Young, Apple won't start releasing these iPad models until 2024. Elec wrote last year that Apple has begun a slow transition to Type 4 display technology for its devices.
The company started with IPS LCD displays with conventional backlighting. Then came IPS LCD displays with miniLED backlighting, which are now used on the 12.9-inch iPad Pro, as well as the 14 and 16-inch MacBook Pro. In the near future it will be OLED displays.
The report says that the first OLED iPad (and even OLED MacBook) will be released in the time period of 2023-2026. Most likely, this will happen in 2024.
After this transition, Apple will finally switch to microLED technology:
Despite the similarity of the name with miniLED technology, it is a completely different technology. This is a more efficient and advanced version of OLED. Such displays are brighter, more economical in power consumption and do not suffer from burn-in. Apple has been interested in microLED technology since 2014. Although progress has already been made, the technology is still at a very early stage of development. As was the case with OLED technology, it will first appear on the Apple Watch, and then on the iPhone, iPad and Mac.
Which iPad models will have OLED displays?
When analyst Ming-Chi Kuo first shared that Apple was working on an OLED iPad, he expected the technology to come to the iPad Air and then to the base iPad and iPad mini. For the iPad Pro, he believes the company would continue to use miniLED technology.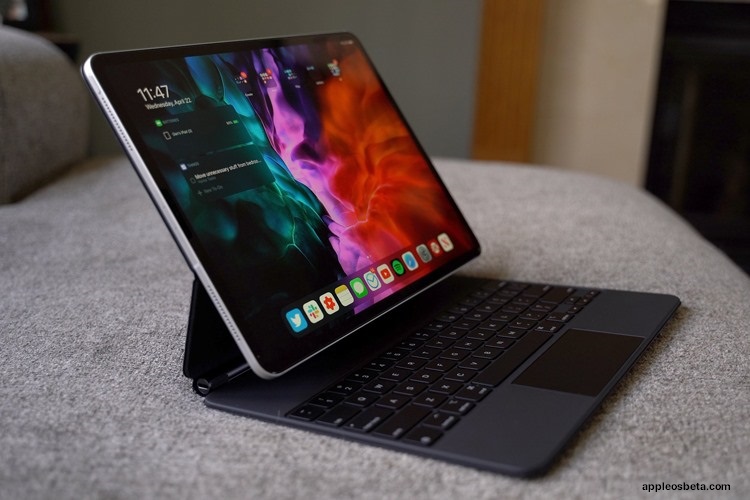 On the other hand, DSCC's Ross Young noted that the technology will develop a lot in the next few years, as well as become cheaper. Then it makes sense for Apple to release a new iPad Pro with an OLED display, and only after that other iPad models.
In addition, it is already known that Apple uses different types of OLED panels for the iPhone 14 line. Here is what Elec wrote:
Samsung Display will use different types of materials for the OLED panels that the company will produce for the iPhone 14 line. The type of panel depends on the smartphone model. For expensive models of the line, the newest and most advanced materials will be used, and for cheap models, materials of the previous generation will be used. The decision was made to save money.
It would make sense if Apple would take the same method for the iPad line.